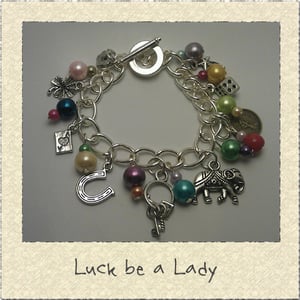 £

15.00
Everyone needs a little bit of luck now and then. Why not try one of these beautiful lucky themed charm bracelets! The beads are multicoloured to represent a lucky rainbow and vary bracelet to bracelet; making them truly unique! The charms are all items you would associate with luck, including a wishbone, 4 leaf clover and a shooting star. This quality charm bracelet is handmade using lead and nickel free materials, featuring 9 individual charms all to do with the luck!
Although luck is not guaranteed, it is a beautiful lucky themed charm bracelet; a steal at only £15! Each bracelet measures 19.5cm including the toggle clasp.
Use the drop down box to select matching earrings and make it a set for only £17.50. These are available in any of the charms you see on the bracelet, or even as a mix 'n' match set! If you have a particular pair you would like, please add details of these to the notes or you will receive a random pair of matching earrings.
All items will be posted out next day and come with free UK postage and packaging for a limited time only!